Creating Change for Adolescent Girls
HGNA challenges the negative images and information bombarding girls today, while offering support and education to their parents.
HGNA 2015 Yoga Club
Yoga Club provides seventh- and eighth-grade girls with a way to positively cope with stress, gain physical strength, clear their minds and make better choices. The monthly club, which is held from January through May, begins at 7:30 p.m. with an hour of yoga followed by a half hour of downtime to relax, reflect and socialize over refreshments. The 2015 Yoga Club Series has five dates: Saturdays; January 10, February 7, March 21, April 18 and May 9. Cost is $20 for the series or $5 per session.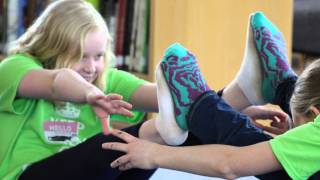 Chick Chat 2015 Registration Opens January 1
Chick Chat 2015 is scheduled for Saturday, March 7, 2015, from 9 to 3 p.m. at Herrick Middle School. Registration for the event begins at midnight on January 1, 2015.
Chick Chat is a an exciting all-day event that focuses on helping your 4th, 5th or 6th daughter develop her true sense of self in a one-day, all-girls workshop that is different each year for each grade level. Check out the video from 2014 above and view additional pictures in our Gallery!
HGNA Dads to bring Dr. John Duffy
Dads, mark your calendar for Monday, January 26 from 7 to 9 p.m. for an amazing opportunity to join in an evening of casual conversation with nationally-recognized speaker and parenting expert, Dr. John Duffy, at Emmett's Ale House in Downers Grove. Dr. Duffy is a highly sought-after clinical psychologist, certified life coach, parenting expert and proud parent. He has been working with teens, tweens, and their families for more than 15 years. He is a regular parenting and relationship expert on the new Steve Harvey show and The Morning Blend on NBC. Check out more at: http://drjohnduffy.com/dr-john-duffy/. Registration opens January 6.
Our Recommendations
We love to share some of the great things we've discovered!