Creating Change for Adolescent Girls
HGNA challenges the negative images and information bombarding girls today, while offering support and education to their parents.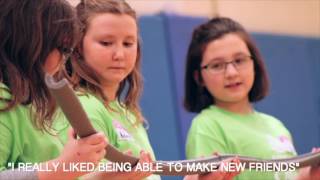 Check Out Chick Chat!
This video highlights Chick Chat -- our day-long workshop where 4th through 6th grade girls can explore their interests, address the challenging issues facing young girls today and build interpersonal skills, all while having fun within a safe and nurturing environment.
Click here for more information on how to bring Chick Chat to your community.
HGNA Scholarship 2017
Congratulations to Downers Grove North graduating senior, Maggie Nevrly, the 2017 recipient of the HGNA Scholarship. For the past nine years, Maggie has participated in HGNA events as both an attendee and as an enthusiastic volunteer. Maggie has also assumed numerous leadership and volunteer roles at school and in the community that align with our mission of navigating adolescence with confidence, resilience, and kindness. Congratulations Maggie and we wish you continued success as you navigate all that your future holds!
CORE 2017
Friday, September 8, 2017
CORE is a fun and engaging workshop designed to equip girls entering Middle School with the tools needed in the transition to a whole new landscape -- both at school and on-line. Featuring break-out sessions led by professionals and a panel discussion led by high school girls, this workshop gives girls the tools to start the year strong!
CORE is open to ALL girls from both public and private schools who will be entering 7th grade.
Our Recommendations
We love to share some of the great things we've discovered!