Creating Change for Adolescent Girls
HGNA challenges the negative images and information bombarding girls today, while offering support and education to their parents.
HGNA Dad's Event Reaches over 90 Dads
Dr. John Duffy, psychologist and parenting expert, talked with a group of over 90 dads on Monday, January 26, at Emmett's in DG, about parenting their daughters and how ego, fear and judgement can interrupt that process. The event was part of the HGNA Dad's education opportunities. Dr. Duffy has written a book entitled The Available Parent which is available at Amazon, or can be ordered at Anderson's in DG.
HGNA Community Scholarship
This year HGNA is pleased to announce our first annual $500 community scholarship for graduating Seniors. This scholarship will be awarded to a deserving young woman in our community who meets the eligibility requirements and is selected by the HGNA Board through a blind selection process.
Click here to download application.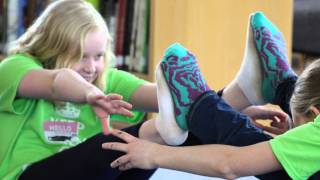 Chick Chat is now SOLD OUT. Spaces still remain for Mom and Dad Chat. Please email your name, email and daughter's grade to info@hgna.org to be placed on the waitlist. We will do our best to place girls if there are any cancellations. If you are registered for Chick Chat and your daughter is unable to attend, please email info@hgna.org and we will be happy to refund your money. Chick Chat 2015 is scheduled for Saturday, March 7, 2015, from 9 to 3 p.m. at Herrick Middle School.
Check out the video from 2014 above and view additional pictures in our Gallery.
Our Recommendations
We love to share some of the great things we've discovered!