Creating Change for Adolescent Girls
HGNA challenges the negative images and information bombarding girls today, while offering support and education to their parents.
Pancake Breakfast
Join us on Saturday, October 25, 2014 for HGNA's Annual Fund-Raising Pancake Breakfast! Breakfast starts at 8:00 a.m. and is served until 11:00 a.m at Ballydoyle's Irish Pub and Restaurant. Don't miss hot pancakes, sausage, bagels, fresh fruit and a bottomless cup of coffee. There is also a fun raffle, featuring a Chicago Sailboat trip, $250 in Downtown Downers dollars and Fitbits. This is the perfect way to start the day before heading to the Downers Grove Rotary Club's Annual Window Painting Event.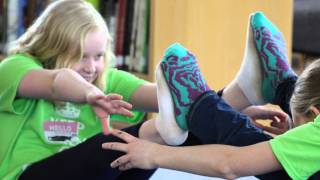 Chick Chat 2014 Video
Chick Chat was held on March 8, 2014, and was an incredible success! Thank you to the 350 girls who made the most of a great day and made the event a huge success!
Chick Chat focuses on helping your 4th, 5th or 6th daughter develop her true sense of self in a one-day, all-girls workshop that is different each year for each grade level. Check out the video above and view additional pictures in our Gallery!
CORE 2014 - HGNA's Middle School Program
CORE (Connecting to Ourselves for Real Empowerment) was held on Wednesday, August 20 for nearly 75 7th grade girls. CORE is a program designed to ease the transtion to Middle School by helping girls create strategies to reduce and address stress, manage changing friendships and focus on staying true to themselves. Featuring break-out sessions led by professionals and a panel discussion led by high school girls, this workshop gives girls tools to start the year strong. Check out the Gallery for photos from this year's event!
Upcoming Events
Oct 20
HGNA Board Meeting
Downers Grove
7:00 PM to 9:30 PM
Oct 25
HGNA Annual Pancake Breakfast
Ballydoyle - 5157 Main Street
8:00 AM to 11:00 AM
Our Recommendations
We love to share some of the great things we've discovered!