Creating Change for Adolescent Girls
HGNA challenges the negative images and information bombarding girls today, while offering support and education to their parents.
Thank You to the Amazing DG Community
The weather was gorgeous and the pancakes plentiful for HGNA's Annual Fundraising Pancake Breakfast. A heart-felt thank you to all of you who came together to help us raise the money that we need each year to provide our programs to the girls and parents in our community. Thank you to the over 500 people who came out for breakfast. Thank you to all of our community leaders who came and served food and beverages at the breakfast -- and thank you especially to the Downers Grove Junior Woman's Club for their part in providing numerous volunteers. Thank you also to all of our generous financial, raffle and food and beverage supply donors. You all come together to make this day possible. We are the only organization in the western suburbs offering the programs we do, and the girls consistently tell us that our Chick Chat program is for them "their best day ever!" You make that possible. Thank you.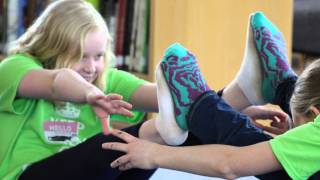 Chick Chat 2014 Video
Chick Chat was held on March 8, 2014, and was an incredible success! Thank you to the 350 girls who made the most of a great day and made the event a huge success!
Chick Chat focuses on helping your 4th, 5th or 6th daughter develop her true sense of self in a one-day, all-girls workshop that is different each year for each grade level. Check out the video above and view additional pictures in our Gallery!
Coach Ehrmann Shares a Message of Transformation
Coach Joe Ehrmann spoke to over 160 coaches and parents on Sunday, November 2 at the Clarence Johnson Auditorium at Downers Grove North High School, about what it means to be transformational in the lives of children. It was a challenging message of self-examination and intention. HGNA is excited to have started this dialogue in our community. Please contact us if you would like to continue this conversation. We would like to thank Coach Ehrmann for sharing his message, the Downers Grove Roadrunners Soccer Club for their partnership and the Oakbrook Racquet and Fitness Club for their sponsorship.
Our Recommendations
We love to share some of the great things we've discovered!