Creating Change for Adolescent Girls
HGNA challenges the negative images and information bombarding girls today, while offering support and education to their parents.
HGNA Announces Scholarship Winners
HGNA is pleased to announce that Clare Sandack and Isabelle Greenblatt, Seniors at Downers Grove North High School, are the winners of our first annual HGNA Community Scholarship, and our special Ten Year Anniversary Scholarship, which was generously donated by Ed and Nancy Dudley. Both recipients attended HGNA programs when they were younger and have become dedicated high school volunteers for our organization. They are also active volunteers within the community in areas such as peer leadership, underclassman advisory boards and youth coaching. HGNA strives to provide programs that empower young women to become strong, empathic and independent, and we are pleased to present our first scholarships to two such individuals.
Self-Defense Class for High School Girls
HGNA is pleased to support Girl Scout Madeline Ungari on her Girl Scout Gold Award Project, Madeline has organized "Worldly Wise: A Self-Defense Class for High School Girls." This class is being offered on Sunday, March 22 from 12:45 to 3:00 p.m. at DG North HS in the white gym. The class will be taught by instructors from OakBrook Racquet and Fitness Club. This workshop was developed to teach women how to use their strengths and abilities against the weaknesses of a male attacker. The techniques are easily learned, practiced and retained in a controlled, realistic, role-playing environment.
Click here to register for the Self Defense event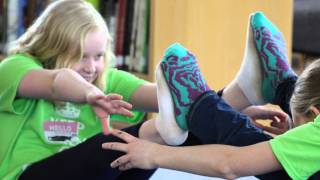 Chick Chat is now SOLD OUT. Spaces still remain for Mom and Dad Chat. Please email your name, email and daughter's grade to info@hgna.org to be placed on the waitlist. We will do our best to place girls if there are any cancellations. If you are registered for Chick Chat and your daughter is unable to attend, please email info@hgna.org and we will be happy to refund your money. Chick Chat 2015 is scheduled for Saturday, March 7, 2015, from 9 to 3 p.m. at Herrick Middle School.
Check out the video from 2014 above and view additional pictures in our Gallery.
Our Recommendations
We love to share some of the great things we've discovered!